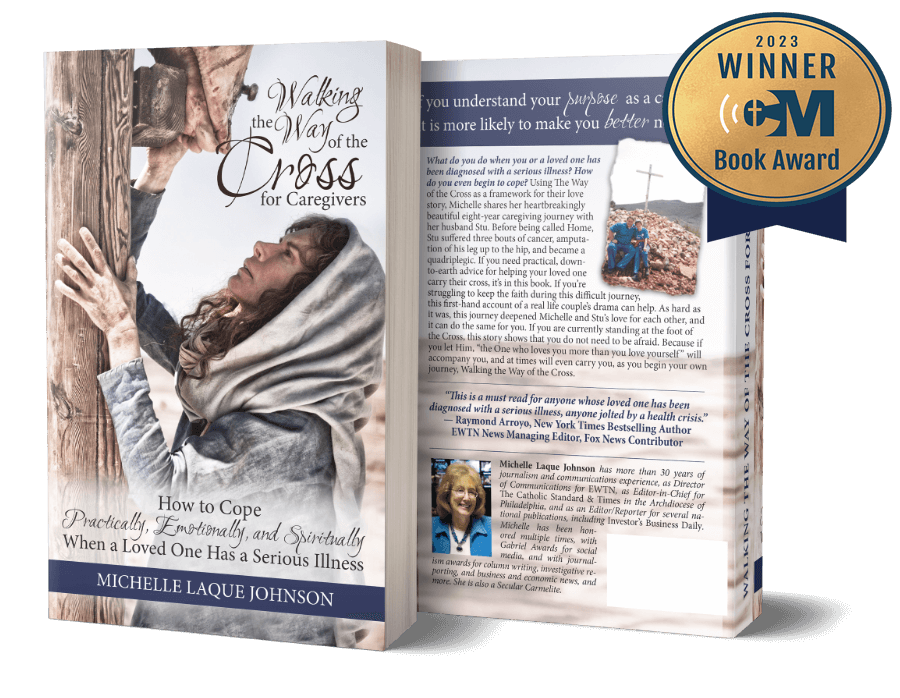 What do you do when you or a loved one has been diagnosed with a serious illness? How do you even begin to cope?
Using The Way of the Cross as a framework for their love story, Michelle Johnson shares her heartbreakingly beautiful eight-year caregiving journey with her husband Stu, who suffered three bouts of cancer, the amputation of his leg up to the hip, and the devastation of becoming a quadriplegic, before being called Home. If you need practical, down-to-earth advice for helping your loved one carry their cross, it's in this book. If you're struggling to keep the faith during this difficult journey, this first-hand account of a real-life couple's drama can help. As hard as it was, this journey deepened Michelle and Stu's love for each other, and it can do the same for you. If you are currently standing at the foot of the Cross, this story shows you do not need to be afraid. Because if you let Him, "the One who loves you more than you love yourself" will accompany you, and at times will even carry you, as you begin your own journey, Walking the Way of the Cross.
Start a Book Club for Caregivers!
Fellow Caregivers, have you ever thought about starting a book club for caregivers? A friend of mine said she opened her church bulletin this Sunday and was surprised to see that someone in her church is starting a book club for caregivers using "Walking the Way of the Cross for Caregivers" as their text. See her bulletin announcement below to see exactly how this caregiver is making it happen at her parish! This would be a great way to make friends who are going through the same thing you are. Sharing our burdens with friends who understand because they've been there themselves makes them lighter! Got questions?
Catholic Media Association Awards
First Place
Self-Published Nonfiction Book
The judges said:

"This is a beautifully written, compelling story with many relevant references to Church doctrine/teaching made to help other caretakers who may travel a similar journey."
Second Place
Marriage and Family Living
Join the Caregivers of the Cross
Community on Social Media
and let's continue the conversation!