Walking the Way of the
Cross for Caregivers.
How To Cope Practically, Emotionally and Spiritually When a Loved One Has a Serious Illness
What do you do when you or a loved one has been diagnosed with a serious illness? How do you even begin to cope?
Using The Way of the Cross as a framework for their love story, Michelle shares her heartbreakingly beautiful eight-year caregiving journey with her husband Stu. Before being called Home, Stu suffered three bouts of cancer, amputation of his leg up to the hip, and he became a quadriplegic.
If you need practical, down-to-earth advice for helping your loved one carry their cross, it's in this book.

Click to read review
 National Catholic Register Book Review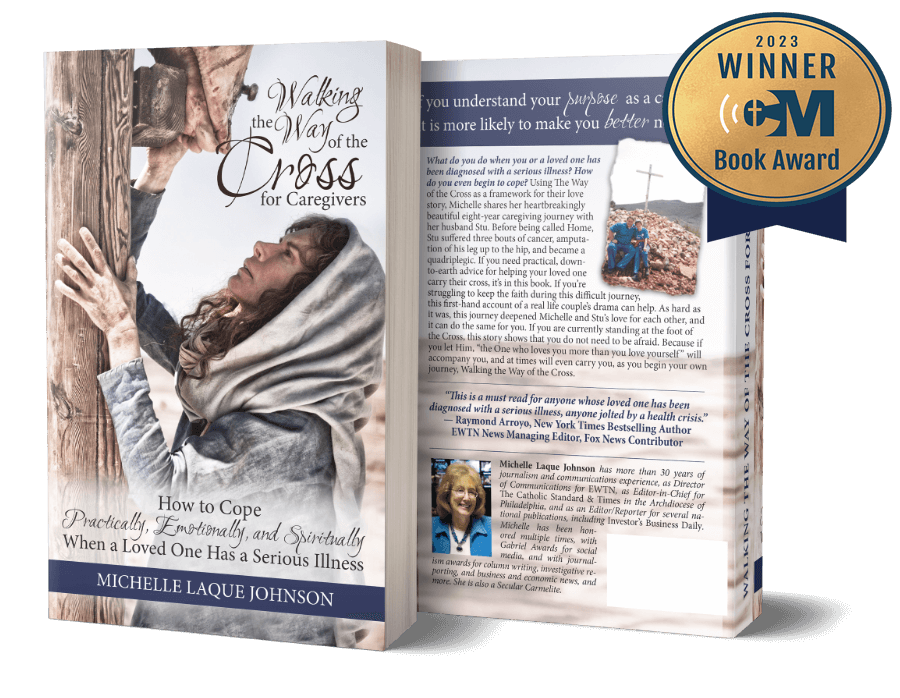 Start a Book Club for Caregivers!
Catholic Media Association Awards
First Place
Self-Published Nonfiction Book
The judges said:

"This is a beautifully written, compelling story with many relevant references to Church doctrine/teaching made to help other caretakers who may travel a similar journey."
Second Place
Marriage and Family Living
Michelle Laque Johnson is a fully professed Secular Carmelite with more than 30 years of journalism and communications experience. She currently serves as Director of Communications for EWTN, the largest religious media network in the world. Michelle was married to Stuart Johnson for 35 years, before he died of cancer. Stu suffered through three bouts of cancer over eight years, had his leg amputated up to the hip, and became a quadriplegic. For all but the last few months, when she could not lift him, Michelle was his sole caregiver even as she worked a full-time job. In addition to her husband, Michelle has also experienced the sudden death of her father and her beloved sister's death from cancer, and is assisted with the caregiving of her recently deceased 93-year-old mother, who experienced both physical and mental challenges. Michelle holds a Master's in Journalism from Northwestern University and a Master's in Industrial/Organizational Psychology from San Diego State.
How to Cope Practically, Emotionally, and Spiritually when a loved one has a serious illness
Caregiving: A Journey of Love, Part 1
The World Over November 3, 2022 | CARING FOR LOVED ONES: Michelle Johnson with Raymond Arroyo

Caregiving: A Journey of Love, Part 2
Get a chapter of this book
FOR FREE
If you are currently standing at the foot of the Cross, this story shows you do not need to be afraid. Because if you let Him, "the One who loves you more than you love yourself" will accompany you, and at times will even carry you, as you begin your own journey, Walking the Way of the Cross.
The book "Walking the Way of the Cross for Caregivers" cites 13 saints to walk with in hard times. Here's one of the author's favorites: St. Teresa Benedicta of the Cross
(Patron Saint of Martyrs/Loss of Parents)
read more
Join the Caregivers of the Cross
Community on Social Media
and let's continue the conversation!